L'icona della musica e della moda, madame Ciccone, dopo ben otto anni è ritornata in cima alle classifiche grazie alla seguitissima ed altrettanto chiacchierata serie tv "The Idol", creata da Sam Levinson, Abel Tesfaye - al secolo The Weeknd - e Reza Fahim per l'emittente televisiva HBO.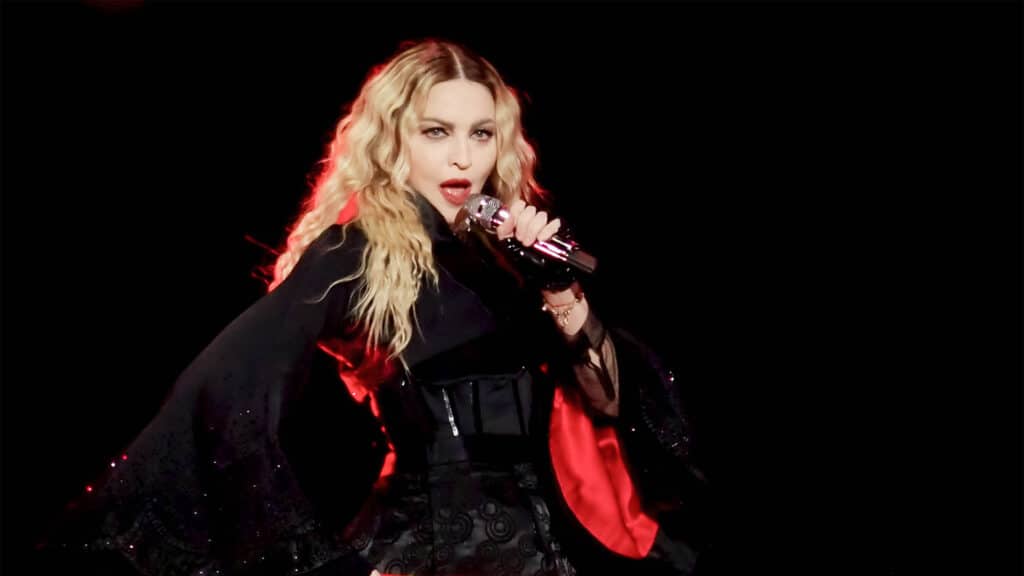 Proprio così perché il singolo "Popular", realizzato da The Weeknd e Playboi Carti ha segnato la ricomparsa in classifica della Regina del Pop che ha battuto un nuovo record divenendo la seconda donna nella storia della musica a conquistare un posto nella classifica settimanale Billboard dei singoli più venduti in cinque decenni differenti, come lei, difatti, soltanto Cher. 
Ma non solo: la canzone è divenuta anche la sua prima entrata in chart dal 2015 dopo Bitch I'm Madonna, terzo singolo estratto dall'album Rebel Heart, contenente Living for Love e Ghosttown.
Testo di "Popular" di Madonna e The Weeknd
I've seen the devil
Down sunset in every place, in every face
Yeah, yeah
Tell me, do you see her?
She's livin' her life
Even if she acts like she don't want the limelight
But if you knew her, yeah, she lives a lie
She calls the paparazzi then she acts surprised
Oh, oh-oh-oh-oh, I know what she needs, oh-oh
She just want the fame, I know what she fiends, oh-oh
Give her a little taste, running back to me, oh-oh
Put it in her veins, pray her soul to keep, ooh-ooh, ooh-ooh
Every night she prays to the sky (every night)
Flashing lights is all she ever wants to see
Begging on her knees to be popular
That's her dream to be popular
Kill anyone to be popular
Sell her soul to be popular
Popular, just to be popular, uh-huh
Everybody scream 'cause she popular
She mainstream 'cause she popular
Never be free 'cause she popular
Money on top of me, money on top of her, uh-huh
Money on top of me, money on top of her, uh-huh
Shawty fuck with me 'cause she know I'm popular, uh-huh
Shawty fuck with me 'cause she know I'm popular
I know that you see me
Time's gone by
Spent my whole life runnin' from your flashin' lights
Try to own it
But I'm alright
You can't take my soul without a fucking fight, oh
Oh-oh-oh-oh, I know what she needs, oh-oh
She just want the fame, I know what she fiends, oh-oh
Give her a little taste, running back to me, oh-oh
Put it in her veins, pray her soul to keep, ooh-ooh, ooh-ooh
Every night she prays to the sky (every night)
Flashing lights is all she ever wants to see
Begging on her knees to be popular
That's her dream to be popular
Kill anyone to be popular
Sell her soul to be popular
Popular, just to be popular, uh-huh
Everybody scream 'cause she popular
She mainstream 'cause she popular
Never be free 'cause she popular
Money on top of me, money on top of her, uh-huh
Money on top of me, money on top of her, uh-huh
Shawty fuck with me 'cause she know I'm popular, uh
Shawty fuck with me 'cause she know I'm popular, uh
Money on top of me, money on top of her, uh-huh
Money on top of me, money on top of her, uh-huh
Shawty fuck with me 'cause she know I'm popular, uh-huh
Shawty fuck with me 'cause she know I'm popular
I'm getting money and I'm keepin' it
I'm getting cash and I'm keepin' it
Money on top of me, money on top of her
Shawty fuck with me 'cause she know I'm popular
Pop-popular, born to be popular
She in debt, twenty mill', but she run it up
She can never be broke 'cause she popular
Turn the webcam on for the followers
Begging on her knees to be popular
That's her dream to be popular
Kill anyone to be popular
Sell her soul to be popular
Popular, just to be popular, uh-huh
Everybody scream 'cause she popular
She mainstream 'cause she popular
Never be free 'cause she popular