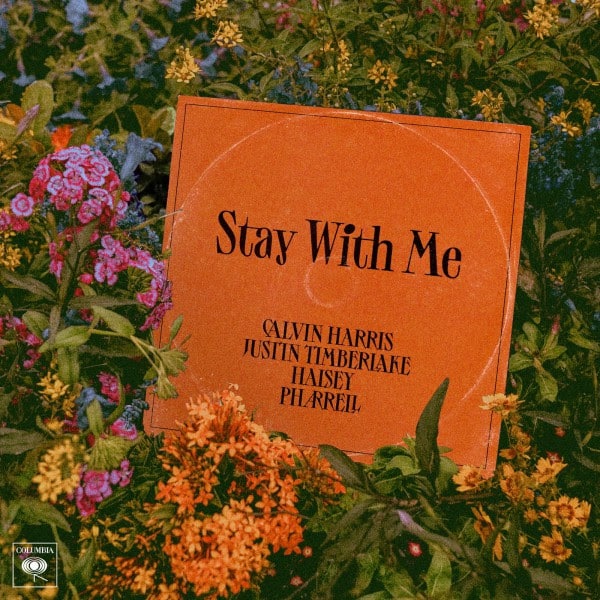 È uscito oggi in digitale e dal 22 luglio entrerà in rotazione radiofonica "STAY WITH ME", il nuovo singolo del producer e artista multiplatino, vincitore di un Grammy Award, CALVIN HARRIS in collaborazione con i giganti della musica internazionale JUSTIN TIMBERLAKE, HALSEY e PHARRELL WILLIAMS!
Lo psichedelico videoclip, diretto da Emil Nava, sarà online dalle ore 17 di oggi, venerdì 14 luglio, al seguente link: https://youtu.be/eMQuofsOOzo.
La nuova colonna sonora dell'estate firmata da Calvin Harris è caratterizzata da una melodia perfetta per essere ballata sulla pista da ballo durante le feste e vede per la prima volta collaborare il dj/producer multiplatino con Justin Timberlake e Halsey. Si rinnova inoltre la collaborazione con Pharrell, già presente nell'album "Funk Wav Bounces Vol. 1".
"Stay With Me" sarà contenuto all'interno del nuovo attesissimo album "FUNK WAV BOUNCES VOL. 2" (Columbia Records/Sony Music) in uscita il 5 agosto (preorder: https://calvinharris.lnk.to/FunkWavBouncesVol2). Al suo interno ci saranno anche il singolo "Potion" (https://youtu.be/FFV6t4Dl_zQ) in collaborazione con la superstar Dua Lipa e Young Thug (che conta circa 100 milioni di stream, oltre 20 milioni di visualizzazioni su YouTube, ha raggiunto la Top 20 della classifica mondiale di Spotify, la Top 25 dell'Airplay radiofonico italiano e nella Top 30 dell'Airplay radiofonico europeo) e il brano "New Money" feat. 21 Savage.
Insieme a loro, presenti nel disco anche Stefflon Don, Chlöe, Charlie Puth, Pusha T, Shenseea, Tinashe, Normani, Lil Durk, Offset, 6lack, Coi Leray, Busta Rhymes, Donae'O, Latto, Swae Lee, Jorja Smith e Snoop Dogg.
TESTO
Hey, it's a mess out there
They can leave, but we don't care
We'll stay, I'm good right here
I've been waiting for you all year
Come play, make a mess right here
Do whatever, I like it weird
Okay, let 'em disappear
Say whatever you want to hear
Just stay
Dance
Dance
Dance
Look in here
They said, "Please, turn it down"
I said, "Just turn around"
They say it's dark, but what do they know?
It's so uplifting how you bounce
And it feel like, damn (Damn)
Look at those pants
Damn (Damn)
It don't makе sense
Bam (Bam)
Yeah, I'm convincеd
Bam (Bam)
It's magic
This one's for tonight and beyond (Come here, girl)
We're toastin' and we cheers, all your girls are here
Something ain't right if you yawn (Yeah, girl)
As crazy as it sounds, wanna take you down
So you can feel the pipe 'til the dawn (Yeah, girl)
The energy is flowin', it keeps us glowing
So we don't need no light, why's it on? (Yeah, girl)
I'm talkin' to you, girl, it's a new world
Hey, it's a mess out there
They can leave, but we don't care
We'll stay, I'm good right here
I've been waiting for you all year
Come play, make a mess right here
Do whatever, I like it weird
Okay, let 'em dissapear
Say whatever you want to hear
Just stay
All night
Come on and stay with me
Let's take flight
Come on, let's stay, baby
We could fly away (Girl)
Come on and stay with me
All night
Come on and stay with me
I still see your body in the dark
It's easy, I just use my hands
And I don't even need to go inside
I know just by the way you dance
Look at those pants
Damn (Damn)
It don't make sense
Bam (Bam) Yeah
I'm convinced
Bam (Bam)
It's magic
This one's for tonight and beyond (Come here, girl)
We're toastin' and we cheers, all your girls are here
Something ain't right if you yawn (Yeah, girl)
As crazy as it sounds, wanna take you down
So you can feel the pipe 'til the dawn (Yeah, girl)
The energy is flowin', it keeps us glowing
So we don't need no light, why's it on? (Yeah, girl)
I'm talkin' to you, girl, it's a new world
Hey, it's a mess out there
They can leave, but we don't care
We'll stay, I'm good right here
I've been waiting for you all year
Come play, make a mess right here
Do whatever, I like it weird
Okay, let 'em dissapear
Say whatever you want to hear
Just stay
All night
Come on and stay with me
Let's take flight
Come on, let's stay, baby
We could fly away (Girl)
Come on and stay with me
All night
Come on and stay with me